A life of leadership, scholarship and service
Rebecca M. Blank, an economist and educator who served in high-level U.S. government and academic positions and, for nine years, as chancellor of the University of Wisconsin–Madison, died of cancer Feb. 17 near Madison, Wisconsin. She was 67.
During her tenure at UW–Madison, from 2013–2022, Blank focused on improving educational outcomes and the student experience, further elevating the university's world-class faculty and placing the university on firm financial footing through a combination of private fundraising and inventive strategies.
She was known for her direct style, quick analysis and dry sense of humor, all while leading one of the country's top public research universities through a complex political period and a devastating global pandemic.
"Our community has lost a brilliant leader who cared deeply about making this great public research university stronger, more accessible, better connected to the community and the state and better positioned to make a difference in the world," said Chancellor Jennifer Mnookin, who struck up a friendship with Blank in 2022 during her own transition into the chancellor role. "Becky inspired faculty, staff and administrators with an approach to problem-solving that combined vision, creativity, and pragmatism.
Making her mark in Wisconsin
Blank loved the role of Madison chancellor, as she shared in a farewell blog post to the UW community in May 2022 before she left to assume the presidency of Northwestern University.
"No other job in the world would let me lead an institution with its own marching band, sailing club, mascot and ice cream flavors," she wrote, noting her love of Bucky Badger. "In no other job do you get to address 50,000 people in Camp Randall on graduation day when they are all in a happy mood and can't wait to hear what you have to say."
It was Blank, in fact, who brought commencement back to Camp Randall Stadium in partnership with the spring 2014 senior class, in order to celebrate the day on "a grander scale."
Her desire to elevate Wisconsin touched all facets of the institution.
Under her leadership, the university created new programs, most notably, Bucky's Tuition Promise, to further open the doors of the university to lower-income students across the state. She also led increases in undergraduate enrollment, made strides expanding campus diversity and helped reduce the average time it takes students to graduate from the state's flagship campus.
She frequently traveled the state of Wisconsin, touting the university's impact to Rotary clubs, editorial boards and on plant tours, advocating for increased state support.
Blank also led the university through multiple efforts to improve the administrative efficiency of the university.
"Becky was a transformational leader for UW–Madison, serving during challenging times," says Provost Karl Scholz, who came to know Blank decades ago as a fellow economist, then worked closely with her while he served as dean of the College of Letters & Science, before becoming provost in 2019. "Early in her tenure, she helped navigate difficult budget cuts; late in her tenure, the COVID pandemic. She was wise and decisive."
He adds: "Recognizing that the university needed to tap new sources of revenue in order to thrive, she envisioned a multifaceted, strategic plan to move us forward. She built a collegial and talented team, was always available to problem solve, react to, or guide the essential work of the university."
Blank was also a prolific fundraiser, leading the All Ways Forward campaign, which raised funds for 327 new faculty funds and more than 5,000 new scholarships. And she oversaw the creation of the School of Computer, Data & Information Sciences to meet the growing needs of the state's workforce, student demand and the needs of broader society.
During her years as chancellor, she served on the boards of multiple national organizations, including the Board of Directors of the NCAA, the Association of Public and Land-grant Universities, the Association of American Universities and as chair of the Big Ten Council of Chancellors and Presidents.
She counted among her highlights at UW–Madison her attendance at numerous Badger athletics events, including the Rose Bowl and two NCAA Final Four men's basketball tournaments.
A life marked by service
Rebecca Margaret Blank, "Becky" to those who knew her, was born on September 19, 1955, in Columbia, Missouri, the daughter of Uel and Vernie Blank. As a child, Blank lived in Missouri, Michigan, and Minnesota.
She graduated from the University of Minnesota with a BS in Economics and later completed her PhD in Economics at the Massachusetts Institute of Technology. Her work in economics focused on the interactions between low-income labor markets, macroeconomics and government policy. Some of her best-known work was around improvements in the measurement of poverty.
Lawrence Berger, Associate Vice Chancellor for Research in the Social Sciences and former director of the UW–Madison Institute for Research on Poverty, called Blank "a true visionary and role model who I am honored to have known and worked with closely."
"Becky tirelessly fought the good fight for all that she believed in. Her pathbreaking scholarship informed actionable policies for reducing poverty and inequality, for which she fiercely advocated in her various government and nongovernmental roles," Berger said.
"Her commitment to UW and its Institute for Research on Poverty was unwavering, as was her commitment to our nation, state and community, as demonstrated locally by her leadership in the DreamUp Wisconsin initiative," Berger added. "Her legacy will live on through her many contributions to the world."
Throughout her career, Blank interspersed academic work with government service, where she dedicated herself to improving public policy and its implementation. She held faculty appointments not only at UW–Madison, but also at Princeton University, Northwestern University and the University of Michigan, where she served as dean of the School of Public Policy while it was renamed for Gerald R. Ford. She published close to 100 articles and several books.
Blank received the Daniel Patrick Moynihan Prize from the American Academy of Political and Social Science in 2015 and, in 2021, became the first UW–Madison economist to be named a distinguished fellow of the American Economic Association.
She was a senior staff member on the Council of Economic Advisors during the George H.W. Bush administration and served as a member of the council during the Bill Clinton administration.
In 2009, she accepted the role of Under Secretary for Economic Affairs at the U.S. Department of Commerce under President Barack Obama, where, among other things, she oversaw the Census Bureau during the 2010 Census. She then moved into the role of Deputy Secretary at Commerce and served more than a year as Acting Secretary in the Obama cabinet.
Honoring Blank
Blank arrived at UW–Madison in June 2013 to become chancellor. In June 2022, she became Chancellor Emerita and departed for the position of president at Northwestern University in Evanston, Ill., the first woman ever to hold that title. However, she withdrew prior to beginning to serve due to her cancer diagnosis.
She made a significant impression on all who knew her.
"Among Becky's endearing characteristics, a favorite of mine was to learn how much she loved and supported the people she worked with," Scholz said. "The world is a little darker today having lost such a talented leader and great friend to so many."
She is survived by her husband, Hanns Kuttner, their daughter, Emily (Ann Arbor, Mich.), her brother, Grant Blank (Oxford, UK), his wife, Denise, and daughters and her mother, Vernie Blank (Columbia, Mo.).
A memorial service and campus remembrance are being planned. More information and tributes will be added to the campus webpage dedicated to Blank's memory.
Remembering Rebecca Blank in photos
Carousel of key historical events. Use the headings or arrow keys to navigate between slides.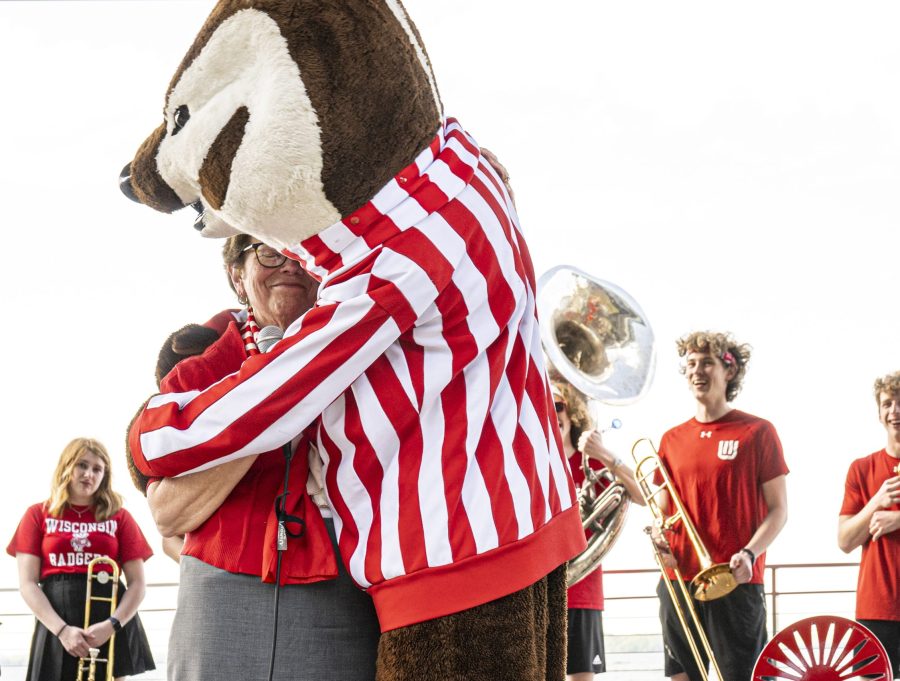 "While there have been some hard days on this job, there have been many more good memories. No other job in the world would let me lead an institution with its own marching band, sailing club, mascot (I'm going to miss Bucky), and ice cream flavors." — Rebecca Blank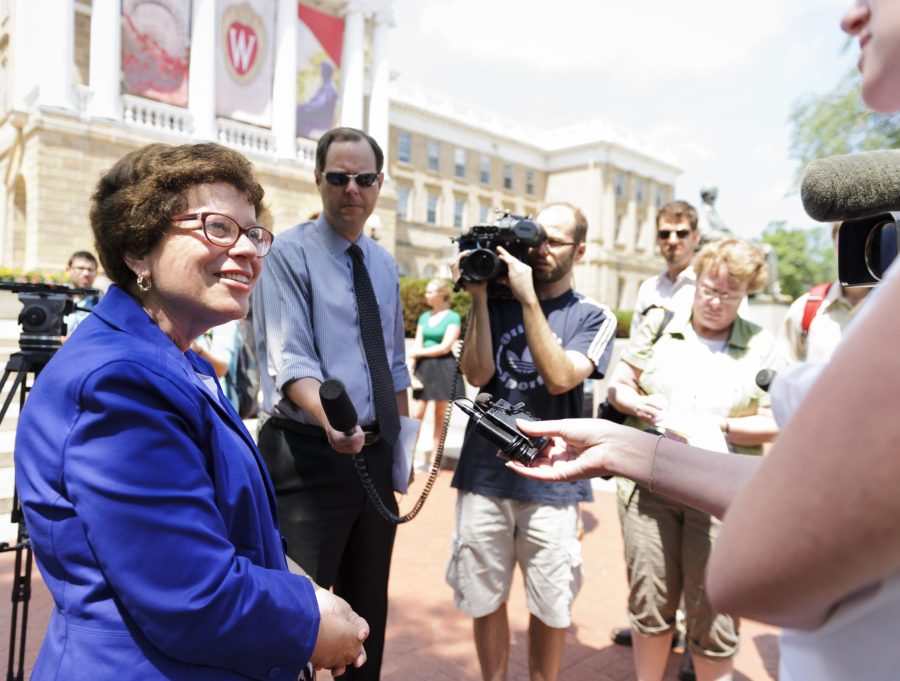 On her first official day as UW–Madison chancellor, on July 22, 2013, Rebecca Blank met with reporters on Bascom Hill. She also briefly spoke with a group of prospective students and families out on a campus tour.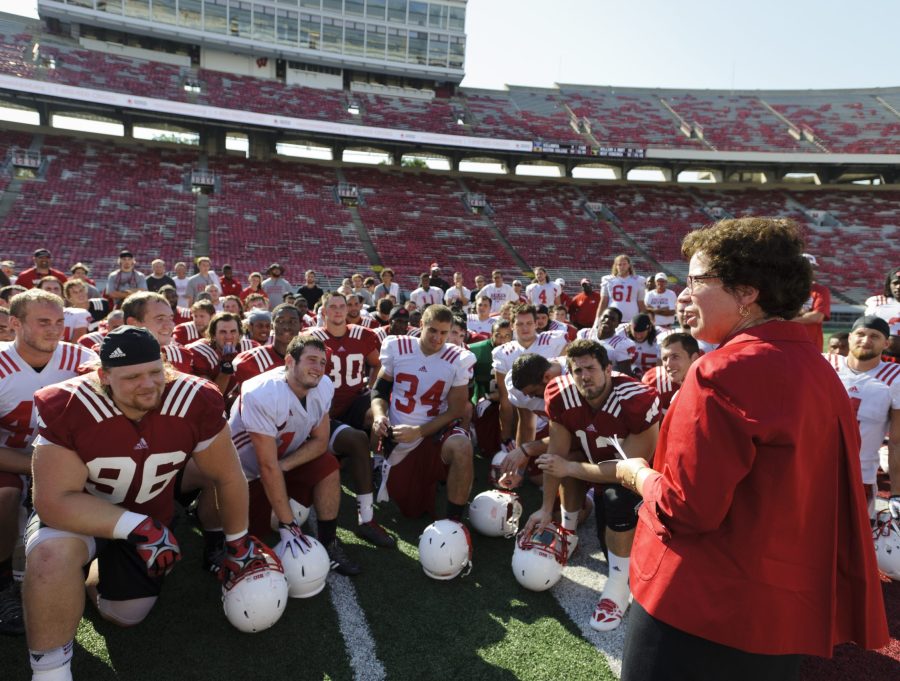 Blank met with the 2013 Wisconsin Badgers football team after an August practice at Camp Randall Stadium. The Badgers would go 9 and 4 that season, and Chris Borland was an MVP.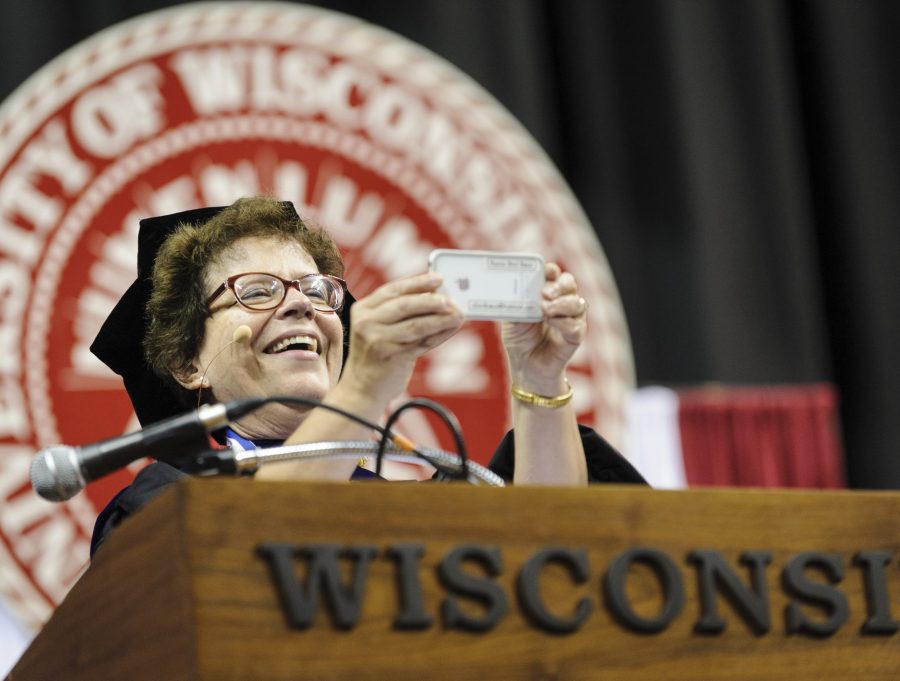 Blank took a moment to photograph the thousands of first-year students gathered at the Kohl Center for the Chancellor's Convocation in August 2013. It was her first major public event as UW–Madison Chancellor.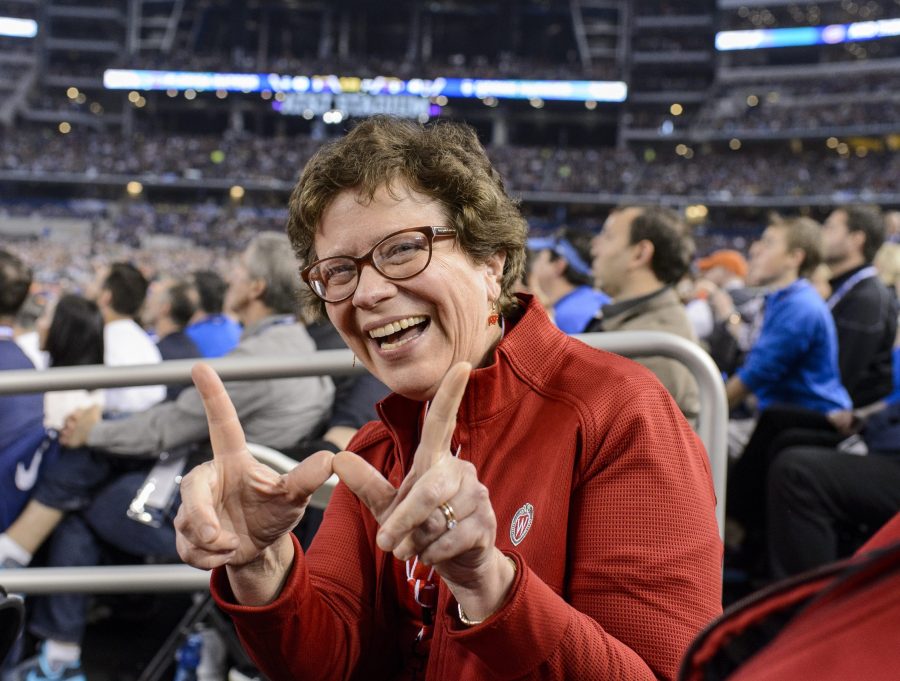 Attending Badger athletics events was among the highlights of Blank's time as UW–Madison Chancellor. Here, she throws the W at a 2014 NCAA Final Four men's tournament game at AT&T Stadium.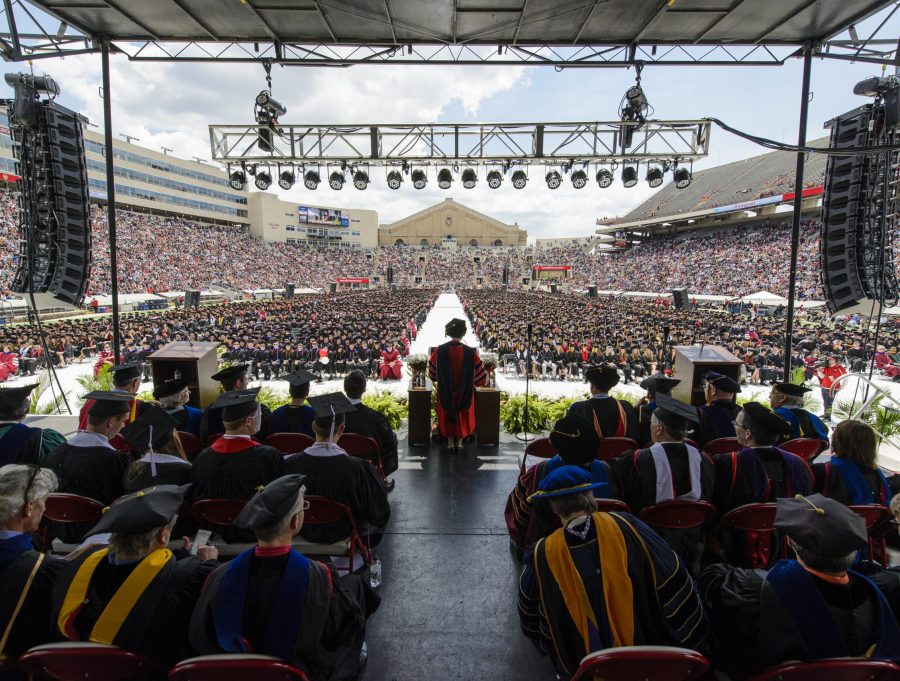 Blank often said commencement was her favorite day of the year. In May 2014, she addressed graduates and their families at the spring commencement ceremony, which she brought back to Camp Randall Stadium that year in partnership with the senior class.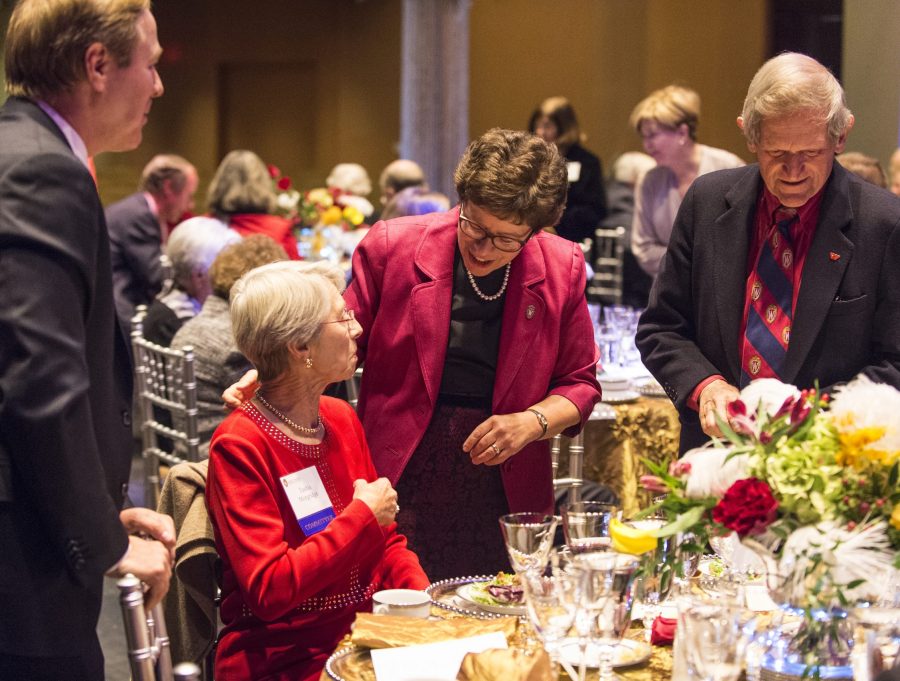 Blank greeted alumni Tashia and John Morgridge at a Van Hise Society dinner at Shannon Hall in Memorial Union after announcing the couple's $100-million gift to the university in 2014, as distinguished alumnus and generous UW supporter Mike Shannon looked on.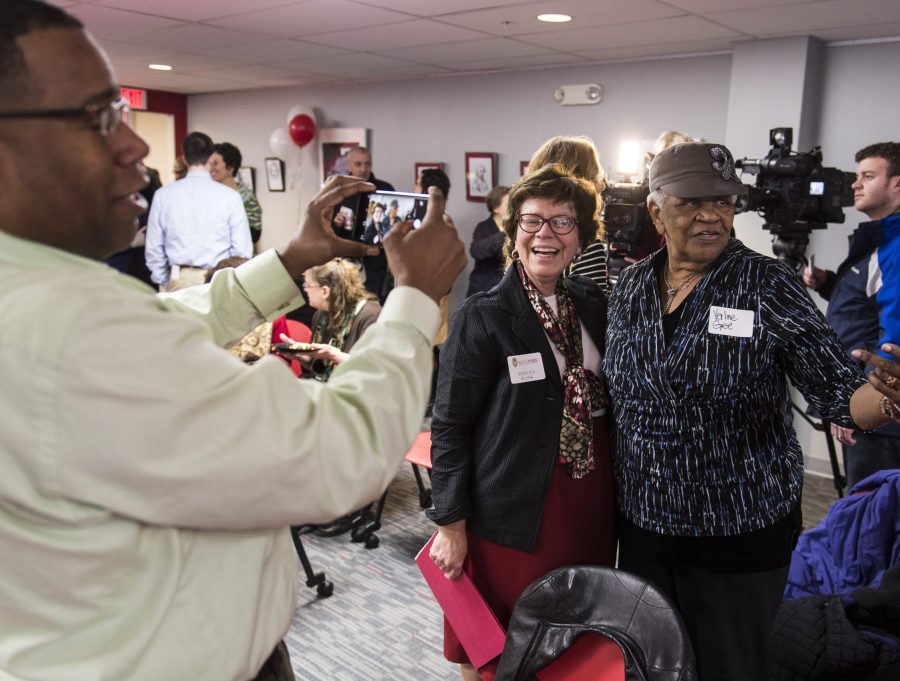 During an open house for the UW South Madison Partnership in 2015, Blank posed for a photo with Verline Gee, mother of lead pastor of Fountain of Life Church and president and founder of the Nehemiah Center for Urban Leadership Development Alex Gee.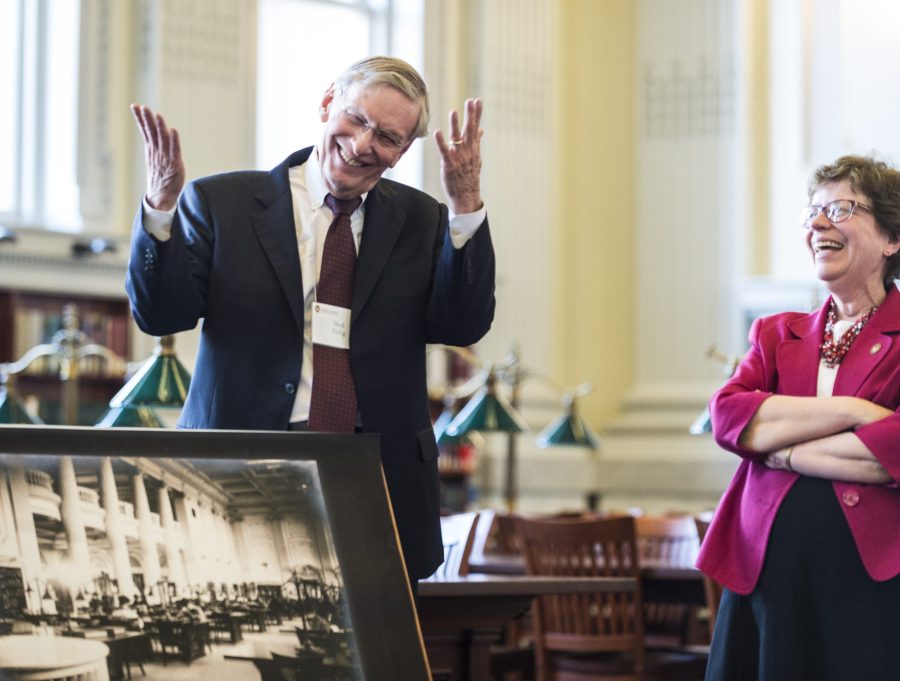 Blank shared a laugh with Allan H. "Bud" Selig, former Major League Baseball commissioner, during an event to welcome him to the UW–Madison Department of History in 2015. Selig was being lauded for his legendary storytelling abilities.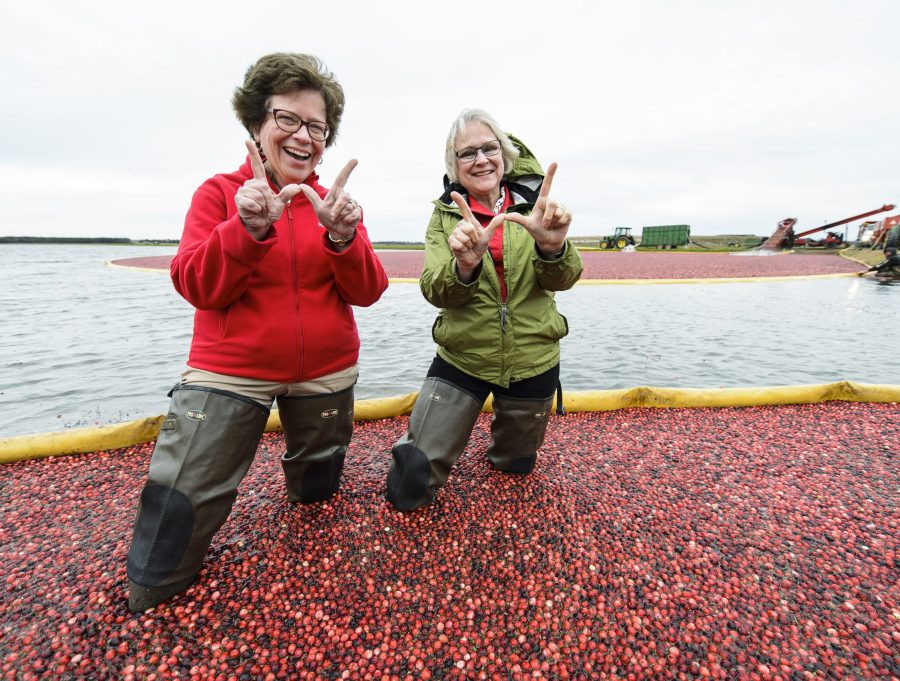 Blank waded into the knee-deep water of a flooded-cranberry marsh with Kate VandenBosch, then-dean of the College of Agricultural & Life Sciences, during a visit to Cranberry Creek Cranberries in Necedah, Wisconsin, in 2015.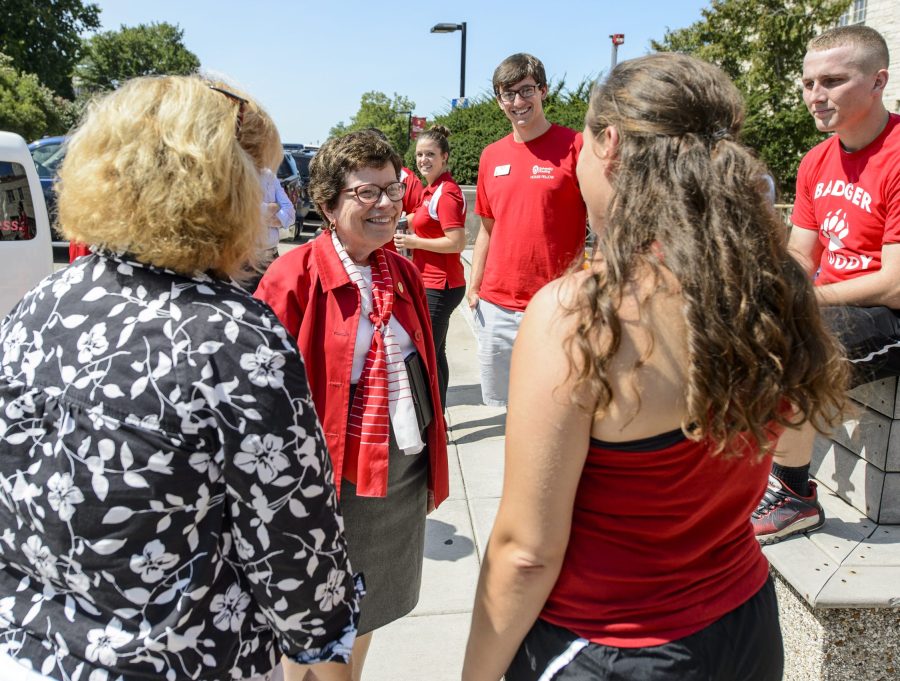 Move-in is an inevitable part of every fall semester. During move-in in 2016, Blank met with new students and Badger Buddy volunteers outside Waters Residence Hall.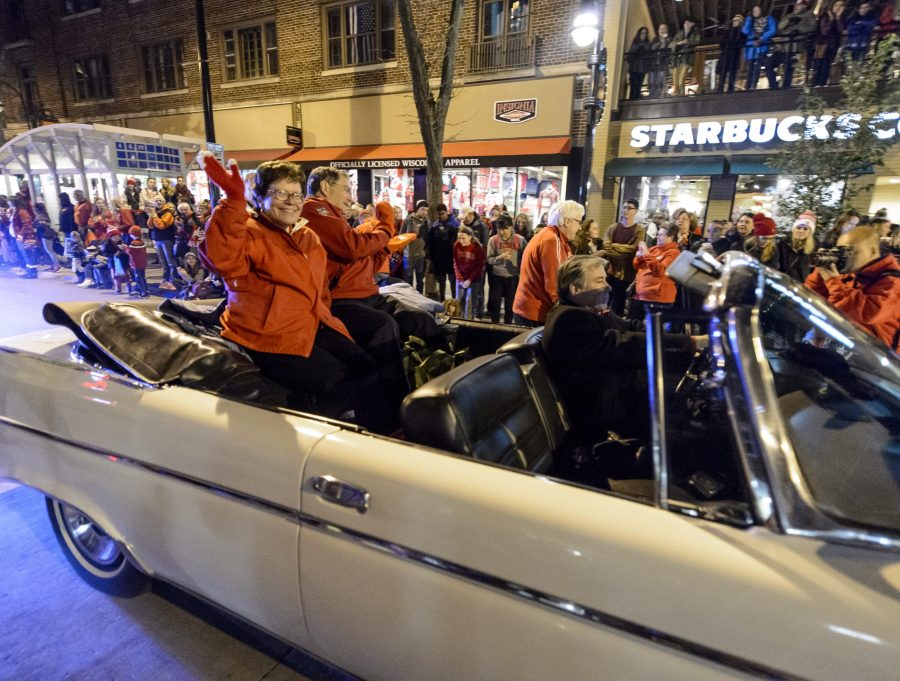 Blank and her husband, Hanns Kuttner, waved to spectators lining State Street during the 2016 Homecoming Parade. The annual parade is a highlight of Homecoming each year.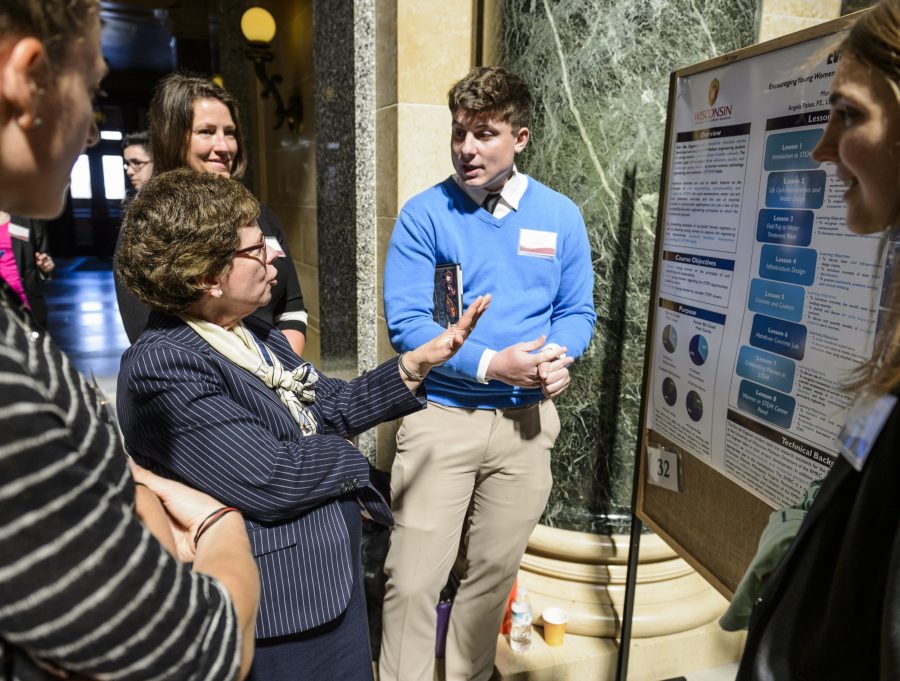 Undergraduate students make pivotal contributions to research at UW–Madison. In 2018, at the annual Research in the Rotunda event at the Wisconsin State Capitol, Blank spoke with student researchers about their projects.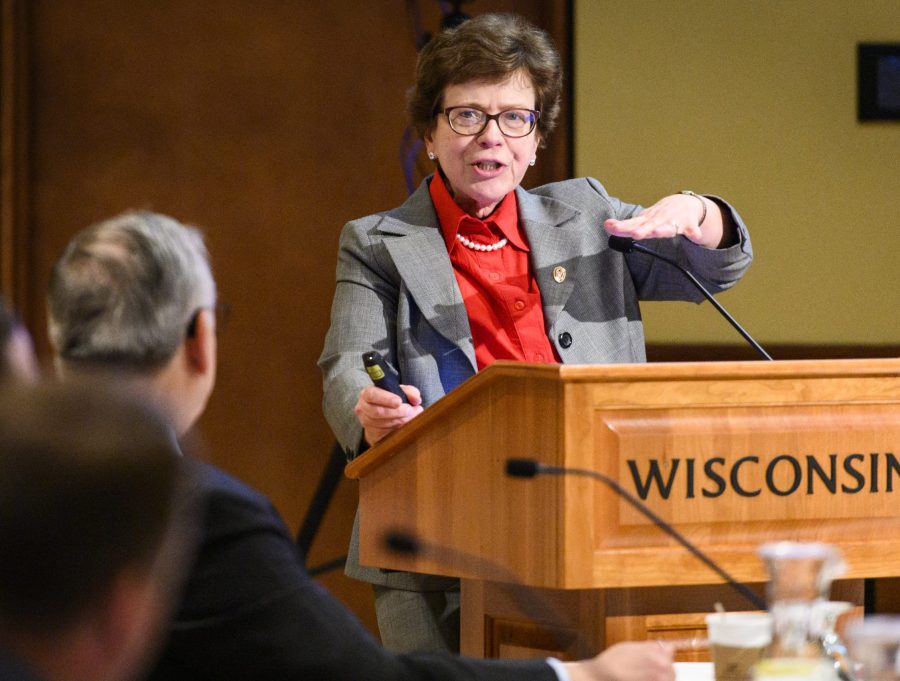 As chancellor of UW–Madison, Blank often presented to the UW System Board of Regents. In 2019, among the topics of her presentation was Bucky's Tuition Promise, a program she helped create to further open the doors of the university to lower-income students across the state.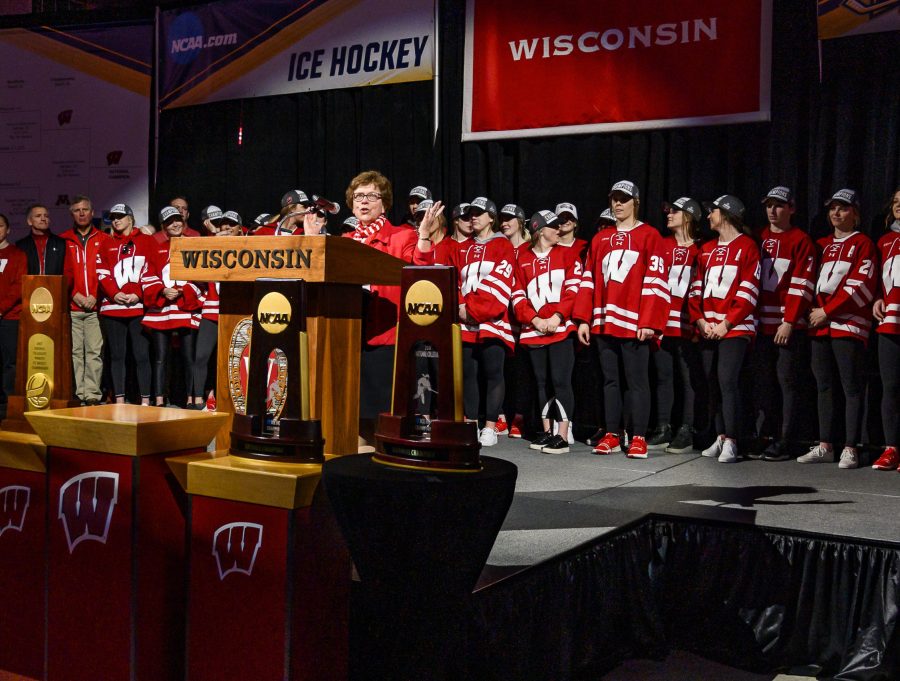 In 2019, the UW Women's Hockey team won their first national championship since 2011. Blank helped celebrate the team at an event at the Kohl Center that year.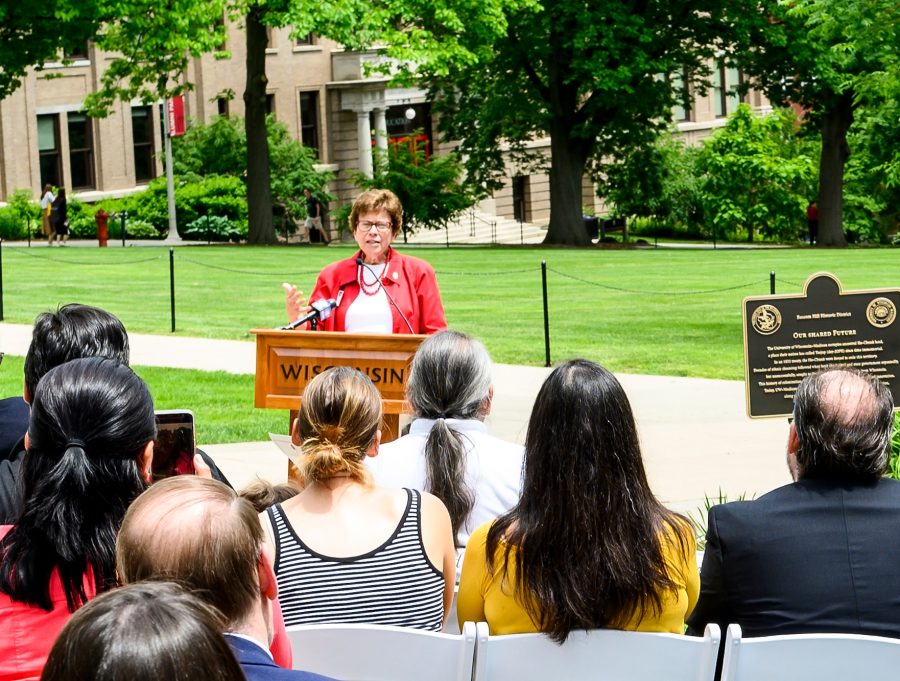 Blank gathered with leaders of the Ho-Chunk Nation, UW alumni and campus leadership for a ceremony to dedicate the "Our Shared Future" plaque, recognizing the land on which UW–Madison sits as the ancestral home of the Ho-Chunk, acknowledging the circumstances that led to their forced removal, and honoring their history of resistance and resilience.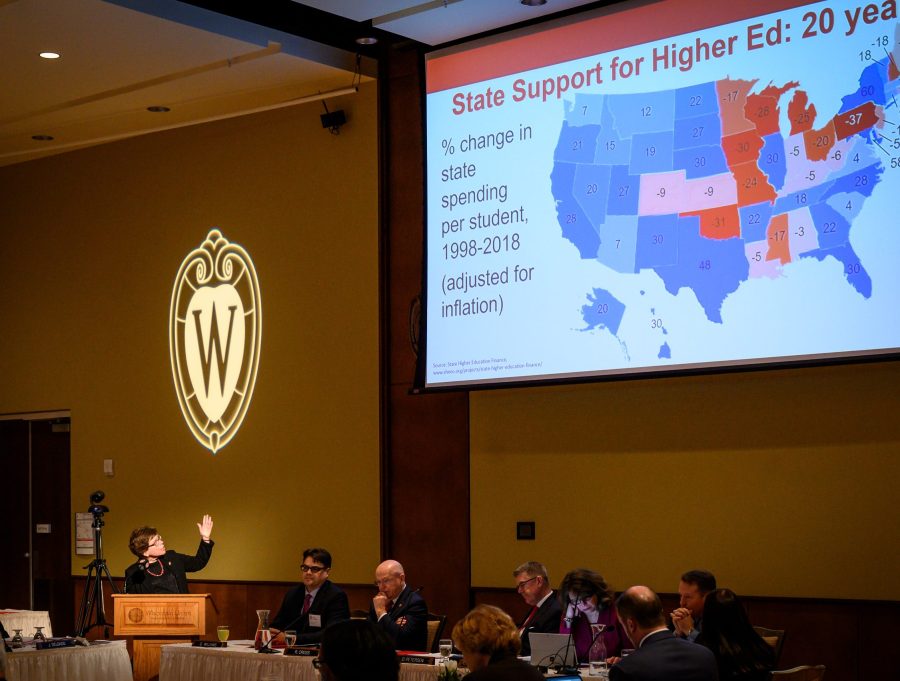 Blank spoke to the UW System Board of Regents in 2020, highlighting the effects of declining state support on institutions of higher education in the state, including UW–Madison. Blank helped raise more than $4 billion in the largest fundraising campaign in the university's history while also navigating historically large budget cuts and a global pandemic.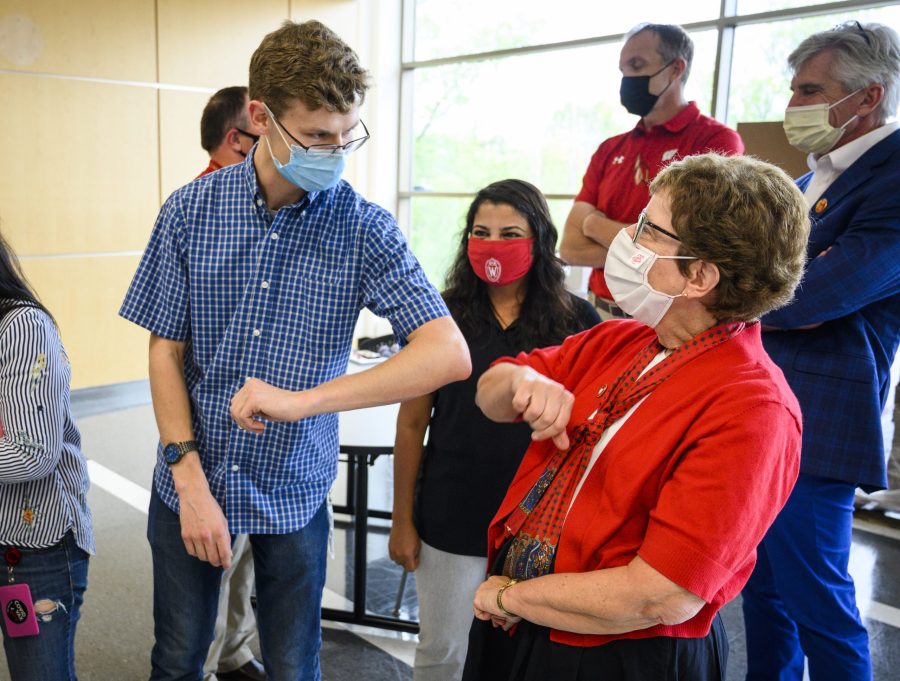 Blank navigated the UW–Madison community through the height of the COVID-19 pandemic. In 2021, she recognized the employees of the Wisconsin Veterinary Diagnostic Lab, like microbiologist Jaret Schroeder, for their contributions to the university's testing efforts.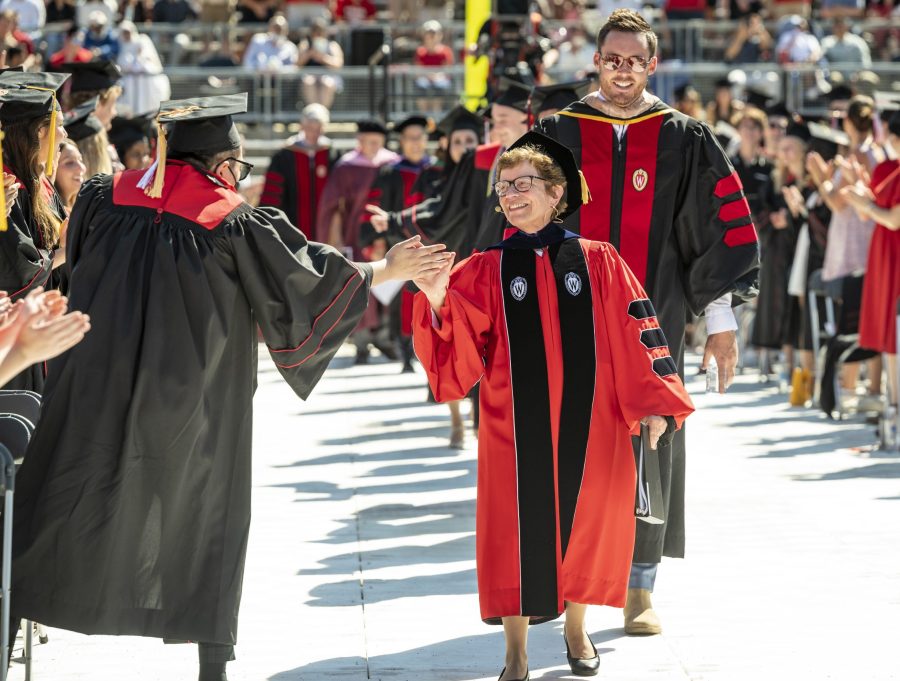 In the fall of 2021, UW–Madison threw a special commencement ceremony for 2020 graduates unable to gather the year before due to COVID-19. While walking with Bucks shooting guard Pat Connaughton, Blank high-fived graduates on her way to the stage at Camp Randall Stadium.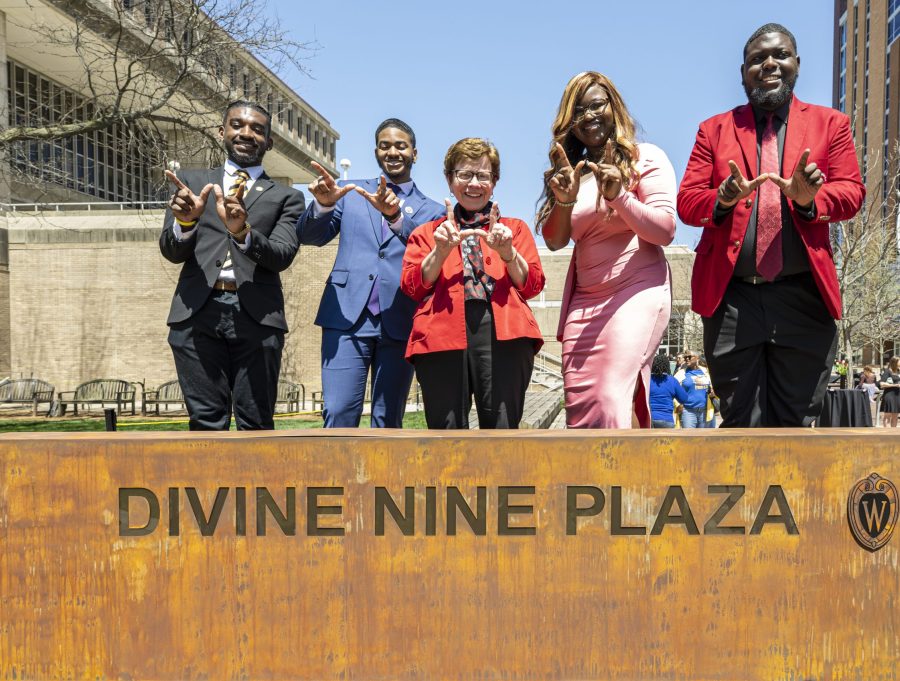 In May 2022, Blank joined UW alumni at a dedication ceremony for the Divine Nine Garden Plaza. The project, which Blank helped spearhead, created a space and historical markers to recognize the contributions of the nation's nine historically Black Greek-letter fraternities and sororities.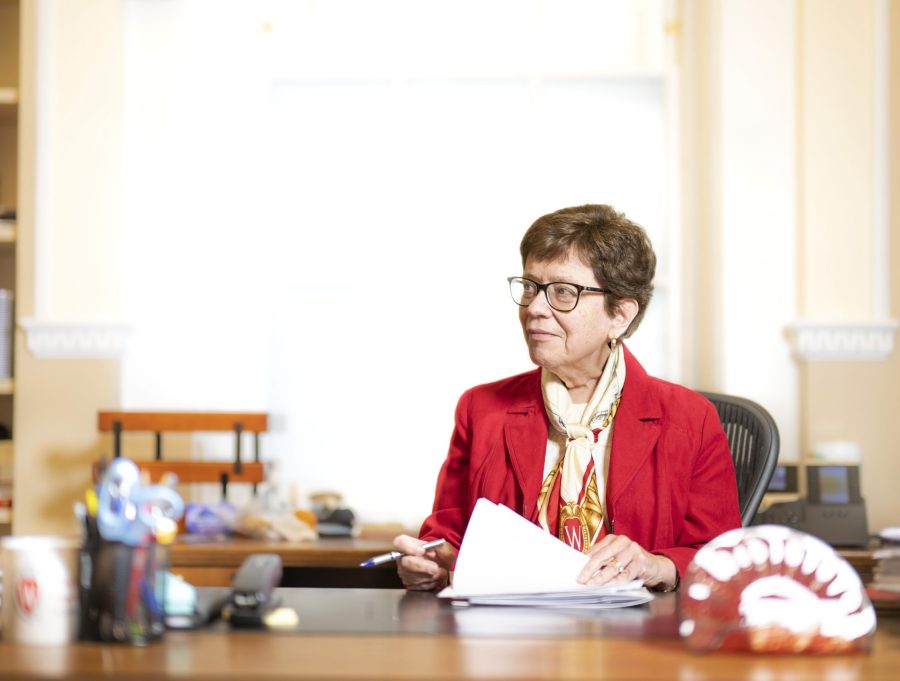 The Chancellor's office occupies a unique space on the UW–Madison campus, with views of Bascom Hill and the state Capitol building. By January 2022, Blank had spent nine years at the desk, as she focused her tenure as chancellor on improving educational outcomes and the student experience, elevating the university's world-class faculty and ensuring the university was on firm financial footing.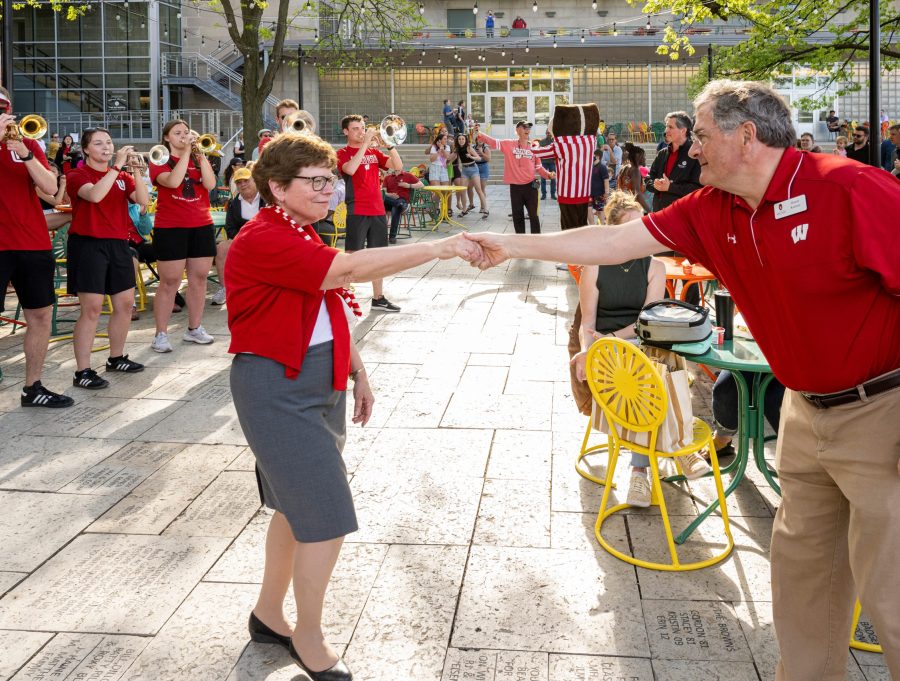 Blank and her husband Hanns Kuttner, danced in celebration on the Memorial Union Terrace at a farewell event in her honor in May 2022. Bucky Badger and members of the UW Marching Band joined them in the festivities.